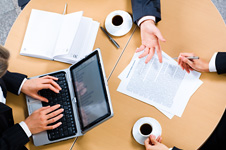 Our company assists small-to-medium sized businesses and organizations with internal bookkeeping and accounting needs and objectives. Here are a few reasons why you should consider us.
Focus
Your business has flourished because of the focus you and your team gives to it. As you've grown, more and more tasks seem to demand your time away from the core competencies that are the foundation of your success. If managing the books is taking away from energy that could be better spent growing you business, we can help.
Control
As you grow, your needs change and so do the financial requirements and regulations that impact you. With us, you are assured of tight control over systems and procedures. Our accountants are experts you can rely on to ensure the highest standards of financial compliance and control.
Peace of Mind
If you find yourself wondering if your accounting and bookkeeping functions are everything they could be, we can put your mind at ease. We're the largest provider of outsourced bookkeeping and accounting services in the northeast for good reasons. Our services are guaranteed and over 200 clients like you have trusted us for more than 20 years.
Efficiency
How many hours are you putting into the books? What if all of those hours went into the business instead? Our efficiency in managing your financials means more hours for you and your team to do what you do best grow your business.
Cost
With our fixed-fee approach, you know exactly what you're spending as well as what you're getting. Budgeting is simple and you don't have to worry about variable expenses springing up.